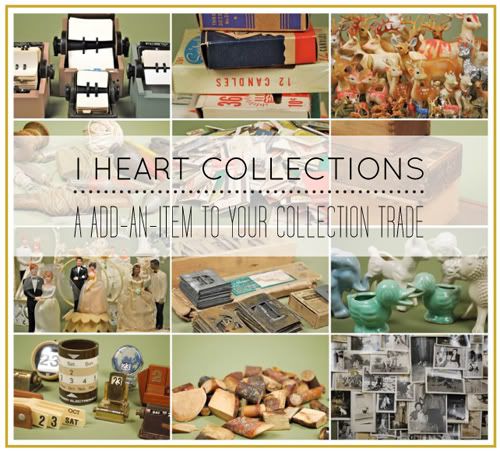 If you have a collection, of anything, you should definitely check out
this trade
hosted by Dannie from
oh, hello friend.
I just signed up and I am so excited about it. It's such a fun way to add a memorable piece to your collections, plus I am going to love the hunt for finding something for someone else! :) If you want to be a part of it, hurry on over and sign up because she is only taking 100 participants and her trades usually fill up fast.
Here is a list of my collections, maybe I will share photos one day.
-owls
-mismatched vintage plates
-mason jars (I'm actually collecting these for my wedding!)
-business cards
-paper with pretty patterns
-the letter 'T' (or 't') in all sizes, shapes, textures, etc.
-vintage (or vintage inspired) keys (mostly skeleton)